4 reasons you should use the cloud for business
Posted by Brett Hall on 10 September 2015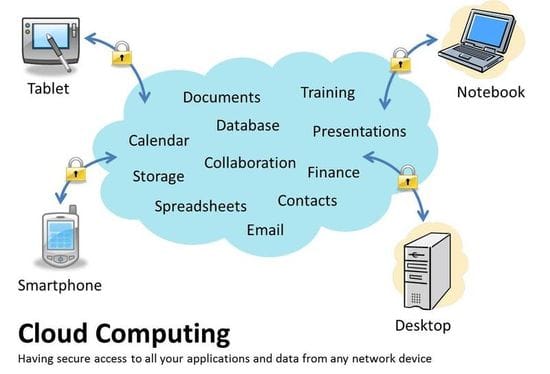 Ever had your doubts about working in the cloud?
Wondered how something you can't see and can't touch can be trusted to have such a great and positive impact on your business?
There's a reason why more and more businesses are headed to the cloud and to help you make the shift, here we'll dispel some myths and give you the four reasons you should use the cloud for your business.
1. Everything in one place
Have you ever copied a document from your work desktop on to a USB to work on at home or take with you travelling interstate, only to open it up and realise you don't have the right file or need additional files?
Using the cloud solves this problem. One of the most significant benefits of cloud over server is that everything you need for your business is available in one place, no matter where you are. Documents, databases, contacts, email, spread sheets, calendars, presentations, finance whatever you choose, is available to you any time and anywhere.
2. Access from any device
Using the cloud also enables you to access your business information from any device. You don't need to be sitting at a desktop feeling like a slave to your office, whatever device suits your movements will access your business information think smartphone, tablet and notebook. Using the cloud is convenient.
3. Reduce your IT expenses
The costs of maintaining your own server can be high for a lot of businesses. Firstly there's the expense of the hardware itself, then the software, plus IT support and maintenance. When IT isn't your field of expertise, this can be complicated and time consuming to manage, let alone expensive.
Because your cloud service provider manages the servers, software and maintenance, and support is generally included, you can significantly cut down your IT costs not to mention time.
4. It keeps your information safe and secure
With security high, your business information is safe in the cloud, especially when using an extremely reputable and reliable provider like Google's Google Apps for Work. You'll avoid the high price that a server meltdown could bring to your business, and dismiss the worry of making back-ups and storing them off site.
Plus, with the incidences of workplace fires, and increasing number of natural disasters like floods and storms putting your business at risk, using the cloud means your business information is always safe, secure and accessible.
Want a Free 30 day trial ?
Try a Google for work 30 day free trial here - http://goo.gl/9yj4gD and use this coupon code 9URQDNKQKGVRF3 to get a 20% discount off your monthly license fee for the first year.
To find out if using cloud computing and Google Apps for Work is right for your business, contact us now.
Post comment