6 ways to use an explainer video in your business
Posted by Brett Hall on 18 April 2018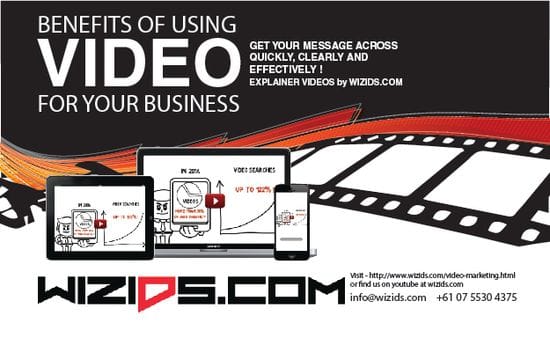 Ever wondered how you could use explainer videos in your business?
Here are six different ways you can use explainer videos - and some examples for inspiration !
1. Pitch a product, business or idea
About to launch a new product or business? An explainer video can help you get across new or complex concepts quickly, easily and in an engaging way. Whether you are pitching to investors, educating your social media following or trying to convert a prospect, an explainer video can help you create a memorable impression.
Check out this product explainer created for Ivvy
2. Explain or train on a product
Need to walk your prospects or customers through the benefits of your product? Want to train your customers or staff in a way that will help them retain the information? This is what explainer videos were made to do!
Check out this product explainer created for the Chamber of Commerce & Industry Queensland (CCIQ)
3. Provide a business overview
On the web, you've only got seconds to capture the attention of your visitors - the time it takes to read a headline. An explainer video captures attention quickly, with music, voice over, words and music, helping visitors to quickly identify what you do and how you can help them.
Check out the business overview videos we did for Seymour Consultants and Australian Investment Property Network (AIPN)
4. Maximise your sponsorship
With more organisations allowing sponsors to share videos throughout the sponsored event, an explainer video can help you get your point across in a novel way without the added investment of a corporate video or the need to involve staff.
5. Showcase your point of difference
Work in a competitive industry and need to establish your point of difference quickly? Want to counteract industry perceptions potential customers have? Explainer videos are a great way to tell your brand story. In 30, 60 or 90 seconds you can take your customer through an emotional journey showing them how they can turn their current pain to relief or pleasure by using your product, service or business.
Take a sneak peek at how Butcherman and 1300 Hometutor showcased their points of difference.
6. Thank your clients or celebrate achievement
There are certain times during the year when you want to thank clients, wish them well and notify them of your opening hours over Christmas and Easter for example. An explainer video gives you a fun and memorable way of doing that. You can also use explainer videos to capture or celebrate a key anniversary or achievement.
Here's a well wishing video we did for clients in Easter last year Wizids Easter Special
So in 2018 make delivering your key messages to clients fun and entertaining, while still being informative !
Happy viewing....
Post comment