EXPLAINER & CORPORATE VIDEOS
Video is an easy & cost effective way to explain what your business does and has to offer from a features and benefits perspective.
It's also an entertaining way to deliver your key message(s) regarding your products & services to your target audience and potential clients.
Explainer videos and Corporate Videos are two of the best options to consider when looking to market and promote your business.
Below is an example of an Explainer video and a Corporate Video
SEARCH ENGINE MARKETING (SEM)
Search engine marketing is the quickest and easiest way to be found in Google by using Google adwords & remarketing !
SEM offers a great way to reach new and existing customers looking for your type of business, product or service.
Would you like a FREE Google adwords audit ? Click Here
SOCIAL MEDIA MANAGEMENT
Social media has become a vital component a companies digital marketing strategy and requires a lot of time and expertise to master all facets.
Let us take this burden off your shoulders and help manage your social media requirements through our dedicated team of professionals.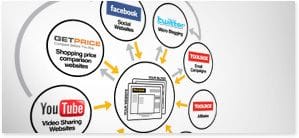 WEBSITES
Having a mobile website is now essential if you wish your website to rank well in Google and be found by customers !
To test if your website qualifies as being a Mobile friendly website then please click here